Horsepower to give you goosebumps. The Golf GTI "Performance".
Out on the road, only three things count: GTI. They tell you everything you need to know. After all, everyone knows that the Golf GTI "Performance" embodies pure driving enjoyment and plenty of goosebump moments.
The Golf GTI "Performance" has many highlights.
Vehicle interior
Step inside the perfect racing environment
19" "Brescia" alloy wheels
Alloys that are guaranteed to turn heads
Progressive steering
Less effort, more time to spin
Exterior
Offering you a sporty and elegant appearance

2.0 l TSI Engine with 245 HP
Powerful. Sporty. Well trained.
Interior
Enjoy a brilliantly sporty comfort
Exterior
Offering you a sporty, elegant appearance.
When there is a red line stretching across the front and the radiator grille features a honeycomb design and black air intakes, then there can just be three letters on the badge: GTI. Slim LED IQ.LIGHT Matrix headlights, a strikingly dynamic bumper and the extended side skirts add even more expression to the sportiness of this legendary vehicle. At the back, the roof spoiler and chrome-plated tail pipes are essential features, while the LED tail light clusters round off the appearance.
Wheels
Guaranteed to turn heads.
Nothing shapes the side view of a vehicle more than the wheels especially on the GTI. The dynamic alloy wheels that are available as standard or an option impressively enhance the Golf GTI's sporty nature.
IQ.Light
The highlight in your Golf GTI: IQ.LIGHT
The all-new Golf GTI is fitted with visibly dynamic IQ.LIGHT LED Matrix headlights as standard that stretch all the way round to the side wings, while smooth LED tail light clusters dominate at the rear. The strong LED matrix headlights fitted with "Dynamic Light Assist" main-beam control light up the road giving you clear visibility. The package also includes innovative dynamic turn signals that use an animated strip of lights to show which way you are turning.
LED front fog lights
Real highlights in bad weather
Fog, heavy snowfall or rain? The standard LED front fog lights that come in the new 5-honeycomb design and are built into the bumper, provide additional light to help you drive safely. Turn them on quickly and the road will look pretty different. And your Golf GTI will look even more stylish.
Exterior background lighting
A friendly welcome before you've climbed aboard.
With the exterior background lighting, your Golf GTI will welcome you before you even get inside. Operate your remote control key or, with Keyless Access with SAFELOCK, walk towards the vehicle and the headlights and tail lights will light up. The door handle recesses and red strip in the radiator grille will also light up and your Golf GTI will welcome you with light projected out of the exterior mirrors onto the floor.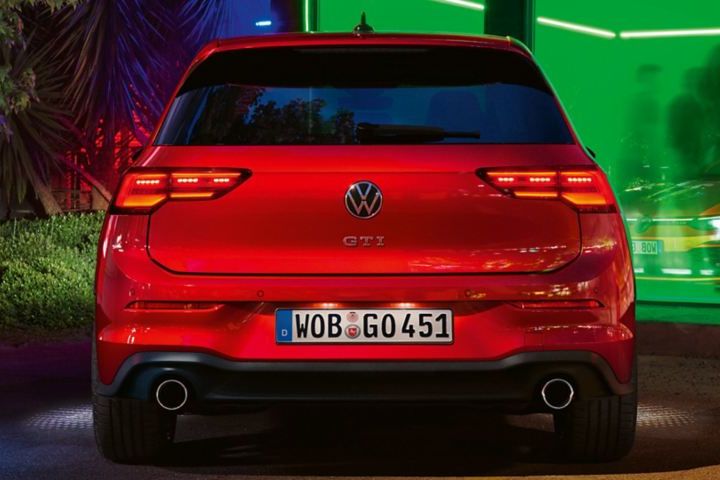 Engine
Powerful. Sporty. Well trained.
With its 2.0 l TSI engine, the compact sports car delivers an powerful 245HP that hurtles you from 0 to 100 km/h in just 6.4 seconds – and enables you to reach a top speed of 250 km/h (regulated). This amount of power is not just fun on straight roads like motorways, but on windy country roads, too. Here, you'll also receive a helping hand from the front differential lock, which stabilises your Golf GTI if it slips and helps you to keep control in the process. Wherever you are heading, you can make the most of this powerful engine.
Engine
Gives you more. Especially more fun
True athletes like the Golf GTI "Performance" (fuel consumption, l/100 km: urban 9.0-7.3 / extra-urban 5.6-5.5 / combined 6.8-6.2; CO2 emissions combined g/km: 155-140; efficiency classes D, C1) are people of few words. They let the facts speak for themselves – and then let them sink in:
180 kW (245 hp)
From 0 to 100 km/h in 6.2 seconds
Top speed: 250 km/h (regulated)
Front differential lock (VAQ) for added control
340 mm brake discs at the front
Red brake calipers with GTI lettering
Sports running gear
You've never been so close to the road
15 mm less. Nothing else is needed to take the handling and driving enjoyment of the Golf GTI "Performance" to unprecedented heights. The reason? The stiffer tuning of the springs, shock absorbers and anti-roll bars in its standard sports running gear. So, it's high time to unleash your speed demon.