DESIGNED FOR THE POLE POSITION.

The RR with winglets is the uncompromising superbike from BMW Motorrad. The steering angle sensor incl. Brake Slide Assist and Slide Control are optionally included in the Pro riding modes. DTC, DDC, Race ABS and shift assistant Pro meet the most impressive engine in its class. The four-cylinder in-line engine with BMW ShiftCam (switching cam) delivers 154 kW (210 hp) at 13,500 rpm and impresses with acceleration that takes the breath away. The switching cam generates more torque and power in the lower engine speed range. Practical features in the TFT display: the last display settings are shown with the ignition on and optimised flash indicator. Thanks to Race ABS and Dynamic Traction Control (DTC), the RR brings its performance safely onto the roadway in any road condition. DTC adjusts the performance to the existing grip in milliseconds.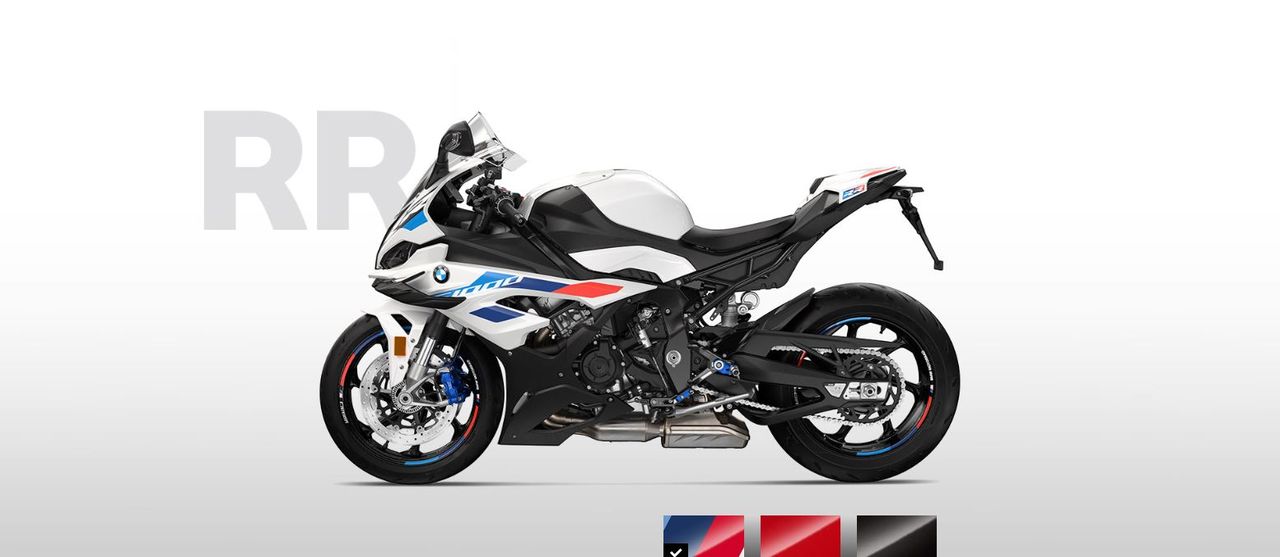 Choose your colour.
Three different colours highlight the untouchable sportiness of your RR. Choose between Mineral grey metallic, familiar Black storm metallic and Light white/Racing blue metallic/Racing red.
Light white/M Motorsport
The iconic colour scheme makes it immediately clear where you come from and where you are heading: to the race track. Paired with the M Package, there is absolutely no doubt.
Passion
From the front end to the tank and the rear: Racing red uni signals pure passion. Like a promise, the dynamic details emerge from the overall image of the RR. Now it's up to you to walk the talk.
Black storm metallic
Sporty, sharp and clearly defined. The aim of the RR is as uncompromising and clear as the colour scheme: top performance, whether on the road or on the race track.
3 years warranty

Ride on & on & on. We`re giving you an extra year.
Now there's a 3-year warranty on all motorcycles.
* *The price shown is a non-binding recommendation of the manufacturer including 23% VAT and the applicable rate of VRT. Modifications and mistakes reserved. If you have any questions, please speak to out team to find out more.