Corporate Social Responsibility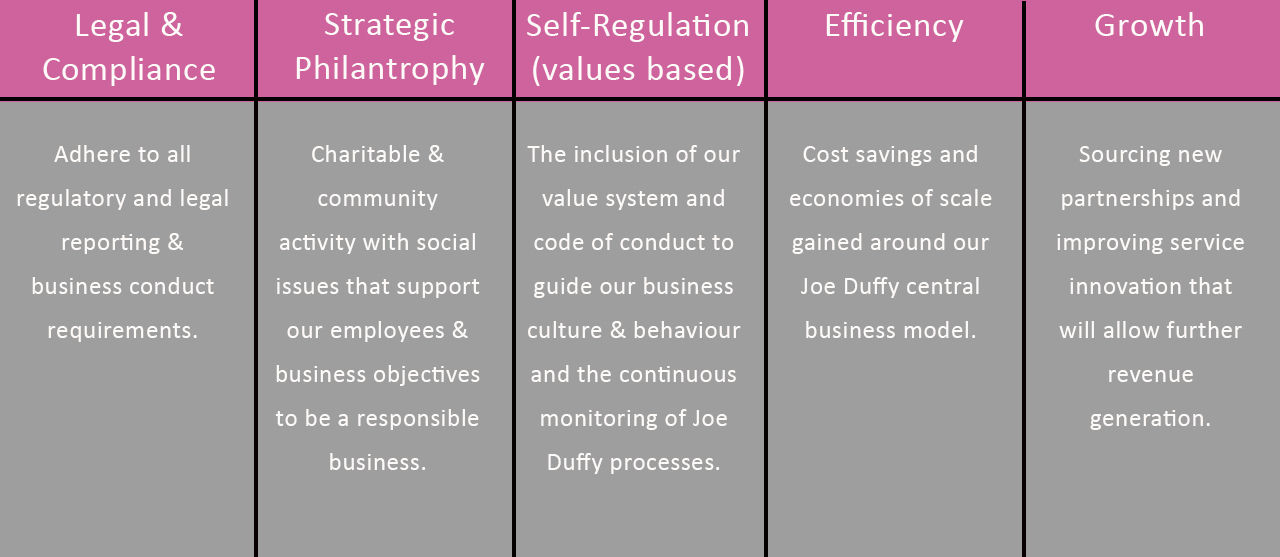 Internal Communications & Employee Engagement
Our dedicated employee intranet, MyJoeDuffy.ie is available to all employees and everyone is encouraged to submit articles and photographs. This communication tool enables everyone in the Group to access information and keep everybody engaged and informed of our developments and achievements. With dealerships located across Dublin, Cork, Drogheda, Athlone, Limerick, and Navan, MyJoeDuffy is a way of everyone getting to know their colleagues and keeping up to date with group-wide news. 2023 will see us do some upgrading as we strive to make this portal more user friendly and upload more content.
Dealership meetings across all departments take place weekly, and the information is disseminated to everyone, either by email or in team meetings.
Transparency is an essential feature of our management culture, and we operate an open-door policy where everybody can access everyone in the Group. This instils confidence and trust that can be evidenced within a short while of joining the Group. We actively promote this and ask the Leadership Team to encourage this important two-way communication and feedback channel.
Our HR department offers a self-service online system. This allows everyone to access their HR information and ensure that we remain compliant.
Two Way Communication – Annual Employee Survey
We do not believe in top-down communication only and actively encourage employee engagement by encouraging a culture of feedback and two-way communications. Each year we conduct a series of employee focus groups and feedback surveys. This ensures that we have our finger on the pulse and continue to listen to our employees. This feedback is critical to the Group and to date has led to many new initiatives' being implemented. For example, over the last few years, new changes like the five-day week for sales and closing for Christmas Eve and New Year's Eve, have been initiatives suggested by the team that were implemented. This year will see us bring in quarterly pulse surveys to ensure we are always striving to keep on top of team feedback.
Health & Safety
Customer & Employee safety is of paramount importance to us. Not only from a regulatory point of view but because we believe that it is our duty of care to ensure that everybody knows that the Joe Duffy Group is a safe place. We also encourage a healthy lifestyle where possible, as we value all our employees and encourage active participation in exercise and healthy eating. We have an employee wellbeing programme with new initiatives being launched every quarter, to ensure that we all look after each other's health – both body and mind. We also offer a free Employee Assistance Programme which is a free counselling service available 24 hours a day to all employees and their families. Customer safety is synonymous with the Joe Duffy Brand, and we offer a complimentary vehicle health check to every customer. This operates on a traffic light system and informs the customers of existing and future safety areas that may need work. We promote tyre and break safety on a continuous basis, and our technical and service teams are experts in the field of customer protection. We continue to follow all the HSE Covid guidelines and have a Covid officer in each business. We operate a zero-tolerance policy in this area of our business.
Training & Development
Every employee at the Joe Duffy Group has a personal development plan that is reviewed during the year at key appraisal and review times, with their line manager. Training is at the core of our development plans with a mix of internal and external ongoing professional development. We also cover the cost of some part-time study where relevant to your role.