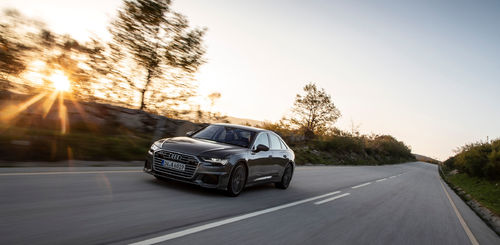 When design meets efficiency and sportiness meets style. When innovation and precision go hand-in-hand and progressive elegance becomes palpable in every line. When form and function become a statement and progress stands above all else. That's when the executive class has a new pace setter: the Audi A6 Saloon. More athletic than ever. As supreme as always.
Reduced design. Maximum ease of operation.
The optional high-resolution 10.1-inch and 8.6-inch HD MMI High touch displays with touch response, fit seamlessly into the elegant instrument panel and are optimally tailored to the needs of the driver. On the upper display, the driver can manage information, entertainment and navigation; on the lower display, text input, air conditioning and various comfort functions can be controlled.
A6 Limousine TFSI e
Combined fuel consumption*: 2.1-1.9 l/100 km
Combined electricity consumption*: 17.9-17.4 kWh/100 km
Combined CO₂ emissions*:47-43 g/km
If you want to get ahead of the crowd, you have to go your own way. The Audi A6 Saloon 55 TFSI e quattro manages this for you in an impressive manner: the vehicle offers an efficient plug-in hybrid drive, a trend-setting operating concept, a comfortable interior, and an athletic design.
A6 Avant
Outstanding space comfort and future-oriented digital competence combined with the visible form of an athlete: The new Audi A6 Avant is victorious in every circumstance. Sporty and elegant on the outside, technologically advanced and generous on the inside, the A6 Avant is comprehensively networked for the digital age and sets new standards in business class with its innovative driver assistance systems.
A6 Avant TFSI e
Fuel consumption combined*: 2.1–1.9 l/100 km
Power consumption combined*: 18.1–17.6 kWh/100 km
CO₂ emissions combined*: 48–44 g/km
Thanks to its innovative plug-in hybrid drive, the Audi A6 Avant 55 TFSI e quattro¹ offers the full spectrum of driving pleasure, on city streets and country lanes. And, as one would expect from an Avant, it is highly suitable for everyday use and has plenty of space for five people.
Versatile, smart, sporty. The Audi S6 Avant.
Combined fuel consumption*: 8.2-7.9 l/100 km
Combined CO₂ emissions*: 214-206 g/km
Sportiness meets efficiency – the new Audi S6 Avant makes its entrance with a torquey V6 TDI engine, offering you the ideal performance models for the long haul.
In addition to its versatility, the Audi S6 Avant also possesses a powerful diesel engine (combined fuel consumption*: 6.5 l/100 km; combined CO₂ emissions*: 171 g/km). The 3.0 V6 TDI produces 349 hp and generates a maximum torque of 700 Nm, accelerating the Audi S6 Avant from 0 to 100 km/h in 5.1 seconds.
Audi S6 Saloon
Combined fuel consumption*: 8.0-7.8 l/100 km
Combined CO₂ emissions*: 208-203 g/km
The Audi S6 Saloon is a sporty all-rounder with a comprehensive range of in-series technologies in the areas of infotainment and driver assistance systems, a powerful drive system and a striking exterior.
Ideas ahead. The Audi RS 6 Avant.
Fuel consumption combined¹: 11.6–11.5 l/100 km
CO₂ emissions combined¹: 265–263 g/km
Whether it's for a business meeting or a family outing – say yes to the Audi RS 6 Avant². This high-performance sports car promises uncompromising design coupled with good everyday usability. It's love at first drive.

Performance is an attitude.
Dynamic driving experience
The suspension of the Audi RS 6 Avant² lets you really pull out all the stops. The standard RS adaptive air suspension permits an optional top speed of up to 305 km/h (Fuel consumption combined¹: 11.6–11.5 l/100 km; CO₂ emissions combined¹: 265–263 g/km). Catering for long-distance comfort or performance, the various modes allow you to enjoy different driving experiences. The optional RS sport suspension plus with Dynamic Ride Control promises enhanced dynamic cornering performance and driving stability.