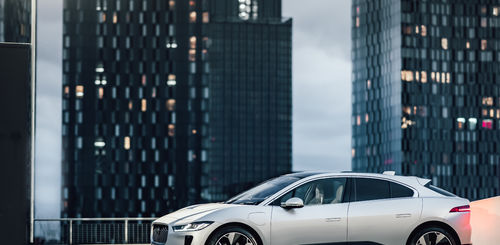 Introducing Jaguar's first all-electric performance SUV.
PERFORMANCE

I-PACE is a Jaguar above all else – a true driver's car. Its electric motors and near perfect weight distribution deliver 696Nm of instant torque and sports car agility.
EXTERIOR

Featuring an elegant, highly aerodynamic design with a low drag coefficient of 0,29Cd, I‑PACE has been created to provide efficiency by slicing cleanly through the air for maximum range and stability. I-PACE offers excitement from every angle thanks to its flowing waistline, dramatic bonnet scoop and signature rear haunches.
INTERIOR

I-PACE seamlessly integrates technology and abundant space. The interior design is clean and uncluttered, with tactile features and sweeping lines. The nature of the electric powertrain offers additional space, providing more freedom to maximise the comfort provided by I-PACE's interior.
IN-CAR TECHNOLOGY

Our new one-touch infotainment system, Pivi Pro, delivers all key infotainment at a glance. It is inspired by, and as intuitive as your smartphone.
I-PACE RANGE

Use our Range Calculator to find out how Jaguar I-PACE can work seamlessly with your lifestyle.
I-PACE PERFORMANCE

Instant torque and All Wheel Drive traction gives I‑PACE the acceleration of a sports car. It reaches 100km/h in 4.8 seconds.
I-PACE BATTERY

I-PACE's 90kWh battery is made up of high energy density lithium-ion pouch cells. Its design and state-of-the-art thermal management system supports longevity and periods of sustained maximum power.
I-PACE POWER
I-PACE is propelled by two permanent magnet synchronous electric motors. Similar to the technology found in the I‑TYPE Formula E racing car, these motors generate 400PS and 696Nm of torque.
I-PACE PRACTICALITY

There are five full seats, innovative storage, a substantial rear loadspace of over 1.453 litres and 27 litres in the front storage compartment.
I-PACE CHARGING

With two charging cables included, I-PACE can be charged either at home or at an ever-growing number of public charging points.
OPTIONS AND ACCESSORIES

Personalise your Jaguar I-PACE through our wide range of options and accessories and create the perfect vehicle to match your lifestyle.
JAGUAR I-PACE FOR BUSINESS

Thanks to its highly innovative technologies, zero emissions and a wealth of space through clever architecture, Jaguar I-PACE is the perfect vehicle for modern business.
GOING ELECTRIC WITH JAGUAR

Simple and accessible charging, significant cost savings and a more sustainable driving experience. The electrifying world of Jaguar awaits.